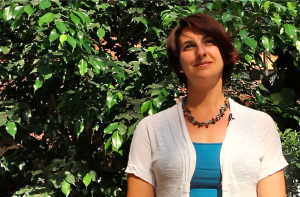 A beautiful, water-efficient landscape doesn't require a huge investment, lots of water and constant maintenance as homeowners might assume. Erin Alvarez, landscape instructor at UF Environmental Horticulture Department, says knowledge about what kinds of plants to install in your backyard and up-to-date irrigation systems is by far the best way to avoid water waste.
"A lot of people typically think they know what plant to put in," Alvarez says, "but they don't necessarily pick the right plants for the right place, and that results in water management issues."
Plant selection should be the first priority when it comes to a homeowner's property. St. Augustine grass tends to have the reputation of being the most water-consuming, but Alvarez says research shows that any type of grass would be better than bare soil. St. Augustine grass is available in several varieties, and some are more drought resistant than others.
But Zoysia and Bahia grasses use less when it comes to water consumption.
"Turf grasses, like Zoysia grass, are being marketed as being more drought tolerant than St. Augustine grass right now," Alvarez says. "And that's kind of a mixed message because it does tend to turn brown faster if it's exposed to drought, but it survives the drought better than St. Augustine grass."
She always warns homeowners to beware of neighbors' landscape advice. Even some landscape companies do not have the proper education or training, which could lead to problems if people spend a lot of money and time investing in a landscape unfit for the area. It is a smarter move to ask your county extension office, or better yet, the university's horticultural department if you are in doubt.
When it comes to watering your lawns, an irrigation system should be in sync with the weather as well.
"It's never a good idea for a homeowner to set their irrigation system to Monday, Wednesday and Friday, and leave it alone. It should always be connected to what's going on in the weather," Alvares says.
Nowadays, technology makes management easier with systems that are connected to weather stations, have soil moisture sensors and evoratranspiration readers. According to Alvarez, these readers are becoming common and available for homeowners, where they measure weather data and determine an irrigation schedule based on rainfall, temperature and humidity.
However, even with the latest high-tech irrigation system and ideal plant selection, water conservation truly comes down to a person's awareness.
"A lot of evidence has shown that if someone wastes water inside, they are going to waste water outside," Alvarez says.
---
Other Resources
Find Your Local County Extension Offices
http://solutionsforyourlife.ufl.edu/map/index.html
The Florida-Friendly Landscaping Guide to Plant Selection & Landscape
http://fyn.ifas.ufl.edu/pdf/FYN_Plant_Selection_Guide_v090110.pdf
Sign up for "The Neighborhood Gardener," a monthly e-newsletter from UF Master Gardener and the Florida-Friendly Landscaping Program.
http://gardeningsolutions.ifas.ufl.edu/mastergardener/newsletter/newsletters.shtml