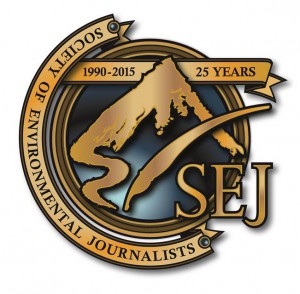 On Valentine's Day in 1990, a small group of reporters, editors and producers covering the environment for The Philadelphia Inquirer, USA Today, Turner Broadcasting, Minnesota Public Radio, and National Geo launched a professional organization dedicated to the challenges of reporting on complex environmental issues.
Twenty-five years later, the Society of Environmental Journalists has a membership of more than 1,400 reporters and academics working in every type of news in the United States, Canada, Mexico and 27 other countries. We're a supportive network dedicated to fair, independent, accurate and engaging coverage of environmental issues local to global. On our vigorous list-serv, members can ask anything from where to find agricultural subsidies to how to craft a book proposal. We also offer mentoring; grants to environmental reporting projects that need funding; annual awards; and training that includes regional meet-ups and a wonderful annual conference.
If you're thinking about environmental reporting as a specialization, check out our special student membership rates and join like-minded journalists working to cover the biggest story on the planet.